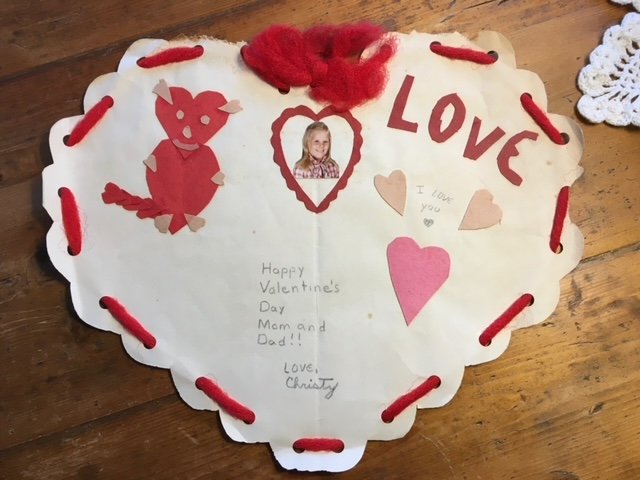 One of our friends recently came across this Valentine she made as a second grader. She has been the target of several evil abusers in her life (now free and wise, thankfully), and she reflected on what this heart-filled creation says about her concept of love back then. She commented:
That innocent child valentine craft is a picture of what was going to happen to me during my life…here comes the enemy in disguise as the finest Christian saint to dupe me into marriage and bondage and abuse….The false gospel of 'must love everyone' was well at work on me as a child. It is shocking for me to see this now.
I suppose that a large part of this distortion of love concerns this issue of the "heart." Valentines. Hearts. Heart-shaped candies. Heart-shaped cakes and cards and all other sorts of cardio shapes. But these ideas focus on emotions and feelings, leaving out another very crucial element of love:
1Jn 2:4-5 Whoever says "I know him" but does not keep his commandments is a liar, and the truth is not in him, (5) but whoever keeps his word, in him truly the love of God is perfected. By this we may know that we are in him:
Love, as you see here, is far more than emotion. To love someone is to ACT with love toward them. It is to be selfless and giving. Anyone who claims to love God, for instance, but who refuses to obey Him is a liar. That is not love.
This is what Jesus meant when He said that we will know them by their fruits. Words are cheap. Valentine cards are cheap. But what is a person's attitude and behavior toward us – there is the tell-tale fruit. Is it rotten or healthy? Unfortunately most children are never taught these vital truths, and grow up having to suffer as a result.